The Audio tool allows the user to insert an audio clip into a mobile form in one of two ways:
Use their mobile device to record new audio and inset it into the form (mobile users only). The format of the captured audio file will depend on the mobile device that captures it.
Inset an existing audio clip that is stored on their desktop/laptop into the form (web client users only). Compatible audio formats include: mid, mp3, ra, wav, wma, aac, aif, iff, m3u, mpa, qcp, amr, and 3gpp.
The image below shows how the Audio field looks within a mobile form: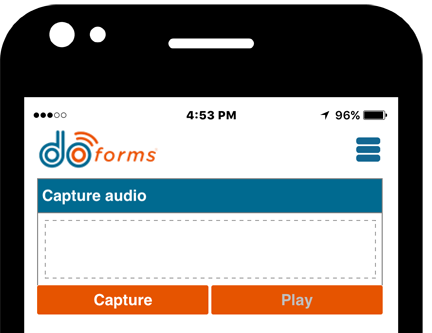 To listen to submitted audio clips, view the submitted form record in the View data tab, and then click the View link for the appropriate Audio field (highlighted in red, below). You will be given the option of opening the audio clip in a media viewer, or saving the audio to a local drive.

Properties
Appearance
Rules & Permissions
Actions & Logic