The Label tool allows the form builder to insert a text header or an image into a mobile form. Labels are useful for embedding a logo into a form, or for providing helpful instructions for the mobile form user.

The image below shows a mobile form with two labels. The first label (indicated with red arrow) consists entirely of an uploaded logo justified in the center of the form. The second label (indicated with green arrow) consists of a left-justified text string.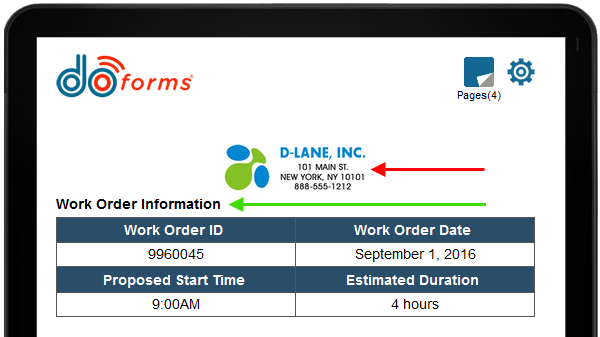 Properties
Caption text: The caption is used in most cases to ask the question. In others it may be a column heading. This is a required field. Please keep in mind that captions will wrap when form elements do not fit within the width of the screen. It is important to consider how your captions will be displayed. Captions on a larger screen might look perfect, but on a smaller device, they may be forced to wrap several times. In this situation, a smaller caption should be used.

Hint: Provides additional information to the mobile form user on how a question (i.e., Caption text) should be answered. The Hint font size is smaller than the Caption font size.

Additional HTML styling can be applied on hints and captions.

Data name: Because this is a required field, doForms will default the Data name to match the Caption or Label. If these are blank, doForms will generate a generic Data name name with a sequential number (such as "untitled10"). Since it is used throughout the system, it is recommended that you enter a descriptive Data name that is easily identifiable. Nondescript Data names are difficult to find and select at a later time (e.g., when performing a calculation).

Image: Enables you to upload and display an image within the label field.

Hide: These settings allow you to hide the form field from users in specific situations. The settings are as follows:
View data edit: Hides this field from a web portal user when editing a submitted form through the 'View data' tab.
View data new: Hides this field from a web portal user when creating a new form through the 'View data' tab.
Dispatch edit: Hides this field from a web portal user when editing a submitted form through the 'Dispatch' tab.
Dispatch new: Hides this field from a web portal user when creating a new dispatch through the 'Dispatch' tab.
Mobile: Hides this field from a mobile user when creating a form.
Web App: Hides this field from a web app user when creating a form.
In PDF and Print: Hides this field when the form is converted to PDF or printed.
Justification: Allows you to apply text justification settings to certain elements of the tool. Choose the appropriate radio button for the Caption and/or Hint fields as follows
L: Left-justifies the text.
C: Center-justifies the text.
R: Right-justifies the text.
Appearance: doForms allows you to set a default set of appearance parameters. This eliminates the need for you to have to set colors and other parameters each time you add an element to your form. You can however override the default settings for any tool by simply picking the Custom option. You can also edit the default by clicking on the edit defaults option.

See Styling your form for more details.

Remove Space: When selected the space Above or Below the tool is Removed. When styling the form this help provide continuity with the layout.

Actions

Only display this question if
This is a very powerful option as it allows you to hide form elements, only exposing them if the answer to a question in your form meets the criteria you have set. Being able to hide fields unless they are needed makes form more user friendly. For example, if you have a Choose One question with the answers Yes and No, then you can say "Only display this form element if" the answer to the Choose One is "equal" to "Yes." You can combine criteria with other criteria, thus creating complex criteria for showing/hiding form elements.