The Report Header has several functions that help to define the appearance and size of your report.
Text: Add up to two lines of custom text at the top center of your form.
Image: Add an image. Images can be placed Left, Right or Center at the top of your report.
Other: Add critical information in your header.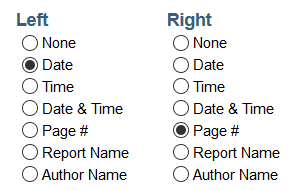 Appearance - You can add a color behind your header and select the text color.
Orientation: Since doForms will try and fit your form into the space allocated, picking landscape over portrait will allow you to fit more columns. This will however generate more pages.
Paper size: Once again since doForms is always trying to best fit your form into the space provided, picking legal as your paper size will allow you to have more columns.