Export

Enter the folder, file name and worksheet to populate. If the file or worksheet does not exist it will be created.
Advanced Options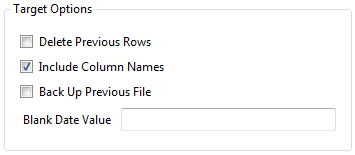 Check Delete Previous Rows to clear the worksheet before adding rows.
Check Include Column Names to place column names in the first row of the worksheet. If there is already at least one row of data in the worksheet then this setting is ignored.
Check Back Up Previous File to make a back up of the target file.
Leave Add Date to File Name, Add Time To File Name and Delete Previous Rows unchecked to append rows to an existing worksheet.

Even if appending to an existing worksheet, the Excel file is overwritten each time the export job runs.