doForms provides the ability to control your users' doForms mobile app settings. These settings can be controlled by the mobile user on a device-by-device basis; or by your account administrator on a per account basis. You can use these settings to control:
How the app behaves
How forms are displayed
Remote support access
Archiving and handling of previously sent forms
To access these settings:
Click on Manage
Select Account
Click on Device Settings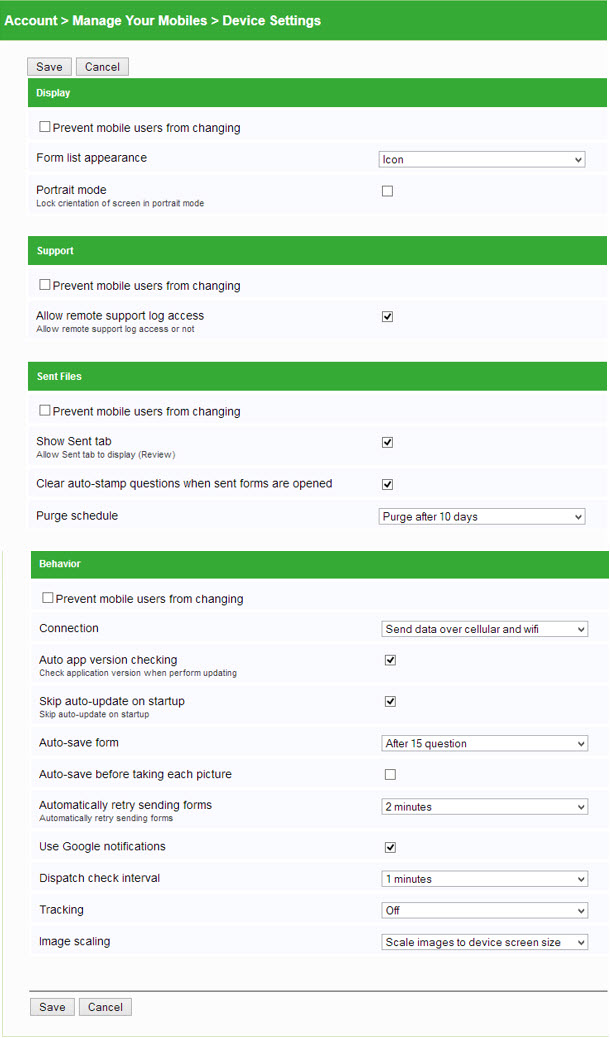 Note that each section provides an option to "prevent mobile users from changing" the corresponding settings on their individual devices. Using this option provides a uniform experience across all the devices in your account, with corresponding training and support benefits. If this option is not used, the users will have the ability to change these settings on a device-by-device basis.
Be sure to click the Save button after making any changes.
Form list appearance – Determines if forms will be displayed as icons or in a list format on the Forms page

Lock in portrait mode – Checking the box locks the screen orientation in portrait mode. This is recommended to prevent situations where the keyboard covers up part of the form.

Allow remote support log access - Checking the box will allow doForms support staff to remotely retrieve support logs and other files in order to investigate any problems you report.

Show Sent tab – The Sent tab in the Review page shows a list of forms that have been successfully sent to your mydoforms website. This tab allows mobile users to open these sent forms. The sent form can be viewed, edited, or saved and sent again (in which case a new record will be sent to the website). This may be useful in some situations and problematic in others. Unchecking this option prevents your mobile users from accessing these previously sent forms.

Clear auto-stamp questions when sent forms are opened – Checking this box tells the doForms mobile app to clear the prior answers in any "auto-stamp questions" when a sent form is opened. This is a useful option if your forms contain time or location auto-stamp widgets as proof that certain work was done.

Purge schedule – This option allows you to specify if Sent forms will be saved and for how long. A sent form is purged from the device when its age reaches the specified value. This is a useful tool for managing available storage space on your mobile devices, particularly when lots of images are being collected.

Connection – Provides options to "Send data over wifi and cellular" or "Send data over wifi only". Use the latter option for cellular devices in situations where cellular data bandwidth and/or cost are issues.

Auto app version checking – Checking this option tells the doForms mobile app to check if its version is the most current whenever a doForms Update operation is performed on the device. doForms will display a warning dialog to the user if it determines that a newer version is available. The user will still need to update the doForms app via the Play Store or App Store (or change these store settings to auto-update the doForms app).

Skip auto-update on startup – By default the doForms app will update your forms, lookup tables, and company notices when the app is started (the app does not update the app, however). Checking this option prevents these update actions at startup. The user will still be able to do an update using the Update button in the main menu bar after the app starts.

Auto-save form – By default doForms auto-saves the form periodically when it is being used in Question View (but not in Form View). This option allows you to specify how frequently these auto-saves will be performed.

Auto-save before taking each picture – Using this option will cause doForms to save the form as "Incomplete" prior to taking each picture using the Image widget. This option may be used as a precaution with certain devices that are known to have camera problems.

Automatically retry sending forms – By default doForms will try resending forms if a Send operation cannot be completed (usually because of no Internet connection). The resend operation will be in the background and invisible to the mobile user. This option allows you to specify how frequently doForms will try resending these forms. Note that the forms that are in this "retry sending" state can be found in the Send page of the mobile app by tapping the "Pending" tab.

Use Google notifications – Checking this option tells the doForms Android app to use the Goggle Notification "push" service to receive dispatches. Unchecking this option tells doForms to use a direct https connection to "pull" notifications instead. If this option is unchecked you will also be able to specify the "pull" frequency.

Tracking – This option allows your mobile devices to be tracked by your doForms website. Use this option to allow or prevent tracking and to specify the frequency with which tracking data is transmitted to your website. The default setting for this option is OFF.

Image scaling – Use this option to control the pixel and file size of photographs collected using the Image widget. The default setting is the pixel size of the screen of the device being used to collect the image. This option can be used to control data transmission performance and cost.

Read more about Branding, UI Customization, Behavior, Notices and other ways to customize the doForms user experience.