doForms provides a Public Forms Library from which you can select forms that can be used directly in your projects. Or you can use these public forms as starting points for further customization to meet your specific requirements. To date, the Forms Library contains over 600 forms that have been contributed by users like you. 
Using a Public Form
To access the Forms Library, go to the Build Forms > File menu and click Open.  The open dialog will be displayed. At the bottom of this dialog, click on "Select a form from the doForms Public Library". A second dialog box will open (see below).  You can use this to enter the form name, if you know it. Or, select keywords to describe what you are looking for. The more keywords you select, the more restrictive your search will be. You may also select a language to narrow your search. Click Search when done. A new dialog box will be displayed listing any public forms that meet your search criteria. Select a form from the list and press Open, otherwise press Cancel.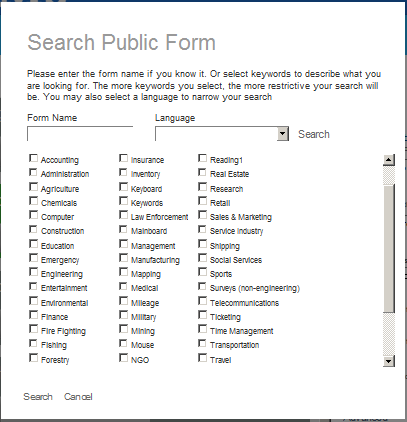 Contributing a Public Form
You may also contribute with a form to the Public Forms Library. To do this, open the Published form that you wish to contribute in the Build Forms tab. Next, from the Build Forms > File menu select Make Form Public. A new dialog box will be displayed where you will be asked to enter descriptive information and select keywords that will help other users find the form. When done click Save, otherwise click Cancel.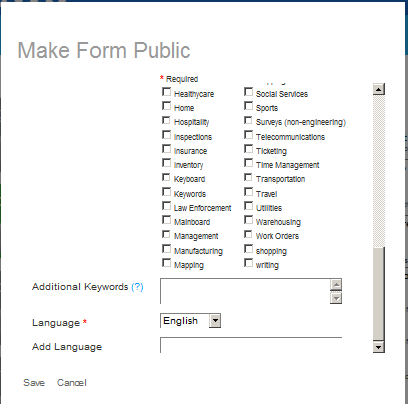 Note that all forms submitted for inclusion in the Public Forms Library must first be reviewed and approved by the doForms editorial staff. They will reject your form if it contains content they deem inappropriate. They may reject your form if they feel it is too narrow in scope or purpose. Or they may decide to make some changes to your form.