IMPORTANT: The Web Users tab is available to doForms users with Manage and Admin privileges only.

http://www.doforms.com/support/how-to-videos/how-to-manage-web-users.htm
Layout
The Web Users tab is the place where you manage who can access your doForms website and what privileges they will have. The rows represent the website users. The columns represent their privileges and attributes.
Website Setup Wizard
When your doForms website starts for the first time, the Website Setup Wizard will appear. Website setup consists of two parts: (i) telling the website which mobile devices are allowed to connect to it (see the Mobile Units section), and (ii) establishing login credentials for any website users other than you. If you use the Website Setup Wizard, the rows in the Web Users tab will be filled in through this process. But you can always change this information, or add web users by following the steps below.

Adding Users
When a new user requests access to your doForms website (see the Accessing the doForms Website section), their request will be displayed as a row marked as "Pending". This request must be "accepted" by an existing web user with Manage and Admin privileges.
Accept – To accept a Pending request, click the Row Menu and select one of the privilege levels under Accept. An email will automatically be sent to the user confirming that access has been granted. The privilege levels are as follows:
Read

– Access to the "View Data Tab" to view data only;

Edit

– Access to the "View Data Tab" to view, add, edit, delete, and export data;

Manage

– Full access to all doForms website Tabs and all their functionality, including building forms, managing projects, connecting additional mobile devices and setting up additional website users.
Deny – To deny a Pending request click Deny.
Changing User Information
Edit – Use to edit an existing Web User's privileges, email (username), password or contact information. Click Edit in the Row Menu. The row will expand allowing you to change certain fields. Click Save when done; otherwise, press Cancel.
Send Email – Use to send an email to the Web User after changing their account information. The email will contain the user's new email (username), password and privilege level.
Delete – Use to delete a Web User. A message will be displayed asking you to confirm the delete. Click OK; otherwise, press Cancel.
Add User – Use to a new Web User from the Web Users tab. A form will be displayed for you to enter the user's information. Click Save when done; otherwise, press Cancel.
Work Group (optional) – Provides a way to classify your web users. The work group field is searchable with the Search button function.
View Restrictions
You can control "who sees what" in the View Data tab by using the View Restriction parameter in the Web Users tab. This parameter allows you to restrict the viewing of records to those submitted by a specific device Mobile Number, or Mobile Group. For example, if you have multiple sales people accessing the View Data tab, you can specify that any particular salesperson can only view/edit the records which they submitted by specifying their Mobile Number as the View Restriction. You may specify multiple Mobile Numbers by separating them with spaces.
In addition to controlling View Data tab and Dispatch tab access by "mobile group" and "mobile number", we have added the ability to control access by "project". This means that the designated Web User will have access only to specific projects. To control these settings go to Manage > Web Users and select Edit from the Row Menu of the user, then set the "Project View Restrictions" as desired.. In the illustration below, the user is restricted to "Edit" privileges to the "Main Project" only. None of the other projects in the account will be accessible to her.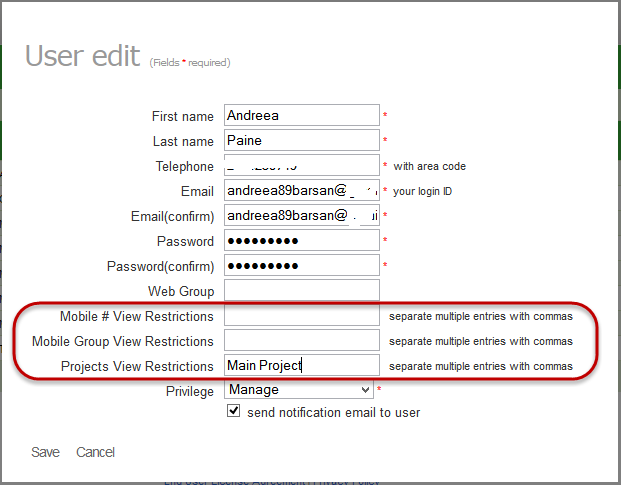 Search
Displays a filter function that allows you to search for specific web users.